Results
After using the singlePopMcmc function on the open cluster M67, the following parameters were derived: Age(Gyr) = 3.656 ± 0.009, [F e/H] = −0.080 ± 0.0043, dist = 9.881 ± 0.0053, Av = 0.2118 ± 0.0030. Note the small errors corresponding to each value. These demonstrate the extreme precision of BASE-9. However, these errors should also be considered with BASE-9's inability to recognize errors in the models that it uses to derive these parameters. It is also clear in figure 1 that BASE-9 did not fit the cluster well towards the Red Giant Branch, so it is possible the binaries identified in this region might be single stars.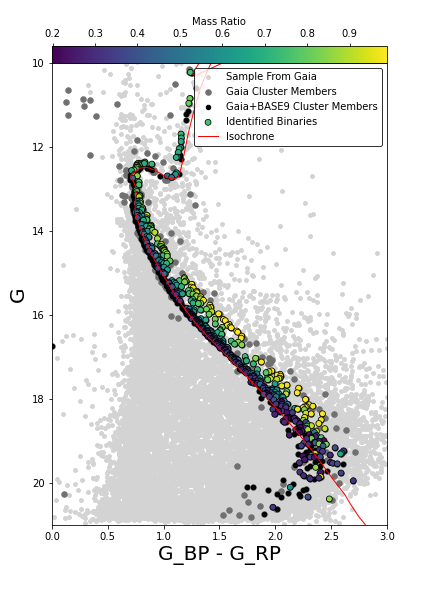 From the 1032 star sample of M67, 552 binary stars were identified, along with their mass ratios. These values give a binary frequency of 0.535 ± 0.023. However, as stars get closer to the main sequence, the mass ratio becomes smaller, making it harder to detect binaries. This trend in mass ratios is visualized in figure 1. As a result, we can set a threshold at q = 0.5, leaving q < 0.5 incomplete. For q > 0.5, the binary frequency becomes f = 0.298 ± 0.017, which is comparable to the frequency found by Albrow & Ulusele (2022).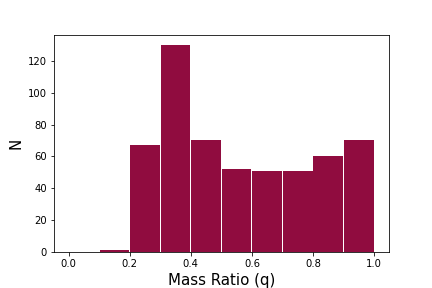 After solidifying our procedure for our current trial clusters, we plan to repeat this process with hundreds of clusters to look into how the birth characteristics of binary stars are impacted by their environment and how they evolve over time. Across these different clusters, we will also compare trends in binary fraction vs. cluster age, mass, distance from the Galactic Center, etc. The next step specifically is to apply this procedure to the young cluster M35 to compare binary frequency and mass distribution trends to those of the older cluster M67.
Acknowledgements
This material is based upon work supported by the National Science Foundation under grant No. AST-2149425, a Research Experiences for Undergraduates (REU) grant awarded to CIERA at Northwestern University. Any opinions, findings, and conclusions or recommendations expressed in this material are those of the author(s) and do not necessarily reflect the views of the National Science Foundation. This research was supported in part through the computational resources and staff contributions provided for the Quest high performance computing facility at Northwestern University which is jointly supported by the Office of the Provost, the Office for Research, and Northwestern University Information Technology. A special thanks to Claire Zwicker and Rafael Catena for their collaboration and also Ted von Hippel for continued guidance on the project. Another big thank you to Elizabeth Jefferey, Roger Cohen, Elliot Robinson, and the rest of the BASE-9 team